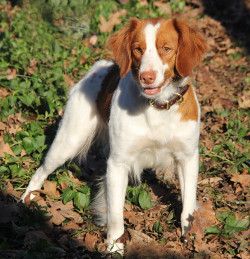 Pearl - Thunder Point's Waypoint Serendipity is from a breeding by Lonnie Degreggio in Arizona. Her father is from a long line of show champions, while her mother is from some of the top field trial champions and hall of fame dogs.

Pedigree Here...

Pearl is one of most biddable dogs we have ever had. She loves to please and is super smart. She is also a fierce hunter who has tremendous speed and agility.

We have teamed up BIG WHITE and Pearl for our 2018 Spring breeding.

Puppy Pedigree Here...





Our current upcoming litter between: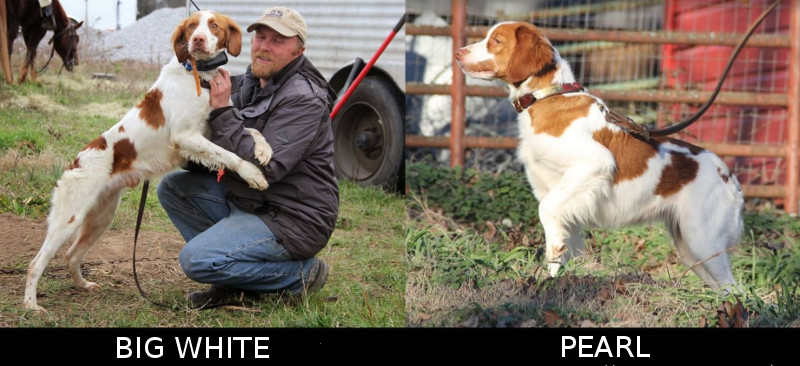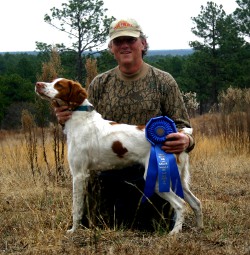 Big White -

is our puppy from our May 2011 breeding between DB Cooper and Jesse. Here he is at 7 months old winning the Tarheel Brittany Club's Spring 2011 Trial at Hoffman, NC.

This was his first experience being handled from horseback and was his first trial. I was very proud of his performance - he ran like an adult, covering lots of ground and going from cover to cover looking for birds, finishing very strong. I am sure that if there were birds on the course he would have found them. He is a very happy dog!



In Spring 2014 he returned to Hoffman, NC in his 3rd time running in an adult stake and placed 1st in the Open All Age stake.





BIG WHITE is ON THE ROAD with Ben and Kyle and is one of the top contenders in the country. He has quite a following in the Brittany Field trial world. You can find him "at stud" here.

Update: BIG WHITE has become the dog to see at many field trials. He has distinguished himself with wins in American Field and AKC championships and has received his AKC Grand Field Champion status. This year, 2018, he won the 2018 New England Brittany Open Shooting Dog Championship, 1st in the New England Open All Age, took runner-up in the Music City Brittany Dixieland Championship, 1st in the Amateur All Age at Music City, and first in the Georgia Brittany Club Grand Open Limited Gun Dog Championship.

Of his last litter of puppies 3 have already received placements at field trials.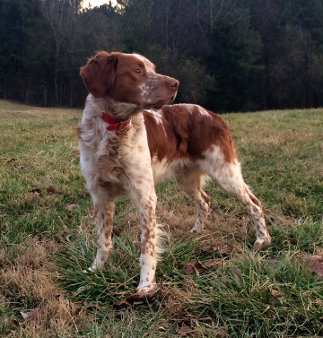 Riker - Waypoint Chancy Diamond Riker is from a breeding between 5XCH, FC CHANCEY JACKPOT LOTTO (CHANCE) and DAN'S QUEEN OF DIAMONDS, combining two of the great Brittany Field Trial dogs of our time, Chance and Diamond Hill Dan.
Pedigree Here...

Brooke Caviness did the breeding via AI (Artificial Insemination) and has a female from that litter, Gemma. Riker is VERY affectionate and while he is a big boned dog he is still very much a puppy.

His best buddy is Big White, who he plays with until he collapses into exhaustion.



This is an old photo of Riker BUT we just love this shot soooo much...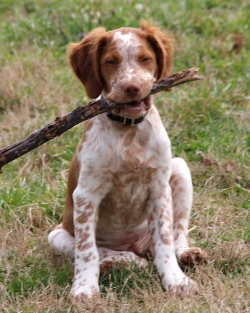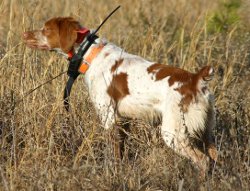 Star (Rooster's Stardust) is from one of our breedings between DB Cooper and Nykko. (Click here for photos of that litter) She is a firecracker. She and Riker can go all day with each other - sometimes getting a little competitive.

Star has one of the most beautiful points that you can imagine. Ben Lorenson told me. "Her style on point is as good as I have ever see." She will actually roll her eyes up with her head and tail up and go into some kind of trance when she is on point.

Star is currently staying with her Aunt Kitty who treats her like a princess with her own bedroom and special treats and walks every day. She has become like a therapy dog.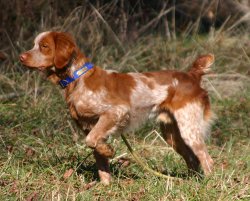 Camo Cooper. Named after his father, DB Cooper. Camo is a stud fee pup that we got when we offered him for stud to Sheri Hudson's bitch, Dixie's Southern Charm. (Pedigree) . Camo is a very different kind of dog. Very roan and heavily colored he is called Camo because he is really hard to see.

When with Ben Lorenson and Kyle Merrill, they would report that "you put him on a line and he just does the whole thing". Camo has the highest tail that I have ever seen on a Brittany. He is quiet but intense. He prefers to be hunting to anything else. In 2012 he competed at the American Brittany Club National Championship.

Camo is now retired and spending time with his pack at home. He has mellowed with age and has become one of the sweetest dogs that you can imagine.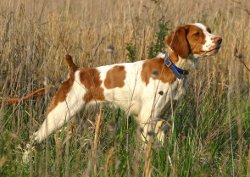 July. And her registered name is, wait for it, "July". Cher and Madonna have one name. Why not July? July is out of our one and only breeding of Chance and Truly. She is very special to us because she is so much like her father, Chance. July is a super-dog. Her first competitions took every bit of the course and then some to contain her. In her coming out she took first place in both puppy and derby stakes at the Music City Brittany Club trial with Joy handling her. She has been trained by Maurice Lindley and Ben Lorenson.

July is home now and wants to go hunting every day more than anything else.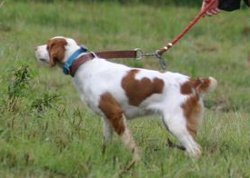 Jesse - Waypoint Chance's Jesse is July's sister. She was returned to us when her owner could not give her the attention needed to complete her training and development. Jesse is a great hunter and has a super nose. However, she doesn't like the field trial game.

Jesse is very calm and very personable.

Jessie is now living with her new parents in Alabama, romping in their 20 fenced acres chasing squirrels.

Deceased Greats - In Loving Memory of ...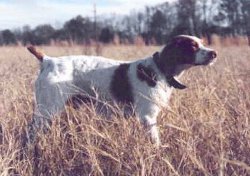 Romeo

(Ruffian's Gallant Corrival), our first Brit, was small but was a runner from the moment that he hit the ground. The challenge with Romeo was to keep a handle on him when he was running free. The first trial that we entered him in he took first place. Dave Medford, one of the judges, gave us the ribbon and said, "This is going to be one of the most expensive things that you will ever receive." We tell our friends that we now do two things in life, dogs, and work to support our dogs.

Romeo was too much dog for me! He would finish a course at a field trial and then refuse to be caught at the end and then run it again. Tom Tracy, Jr. rode up one day and said, "Don't leave until we can talk. I can do something with that dog." Tom took Romeo, trained him, and ran him in field trials in All Age events. Romeo never had a lack of run and proved it when he was two years old by taking a second place in the Open All Age stake at the 2000 Tarheel Fall Trial. Romeo's run was also his undoing. While at home he got on game and into a road and was killed. ...more on Romeo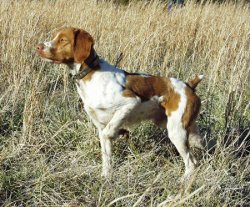 H - His registered name, Dixie Kid's Ultimate ATV, was given to him because he would go anywhere as a puppy. "H" was short for "Hummer", the 4 wheel drive ultimate ATV.

"H" was one nice bird dog. If you wanted to go hunting and have a real worker for a companion then "H" was your man. Maurice Lindley used to say, " H is my man!".

"H" loved chickens. What I mean is prairie chickens. When he trained in South Dakota he would always check the spots where the prairie chickens could be found. This is probably why he took Runner Up in the Prairie Chicken Classic twice!

Today "H" is buried out next to Nykko by the bird pen. It is very hard letting him go and I think about him every day when I clean kennels and see his empty. ...more on H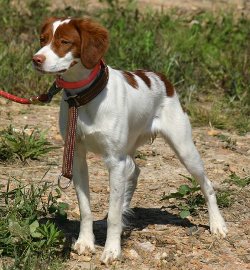 Scandal, a perfect name for a dog called Ammos Arms Deal! When we lost Truly and Chance in the same year our good friend Sandra Leavens offered us one of her best young pups out of one of her litters.

Scandal was a firecracker. She was 100% all of the time. She hunted as hard as a dog can, ran faster than her feet can carry her, and was intense about everything.

Scandal was an AKC Grand Champion and well known by her competition.

Scandal had three litters of pups. The largest one was 14 puppies! She was the best of all mothers. She succumbed to an aggressive cancer. We still miss he so much that we still have not posted the news of her passing. Tears...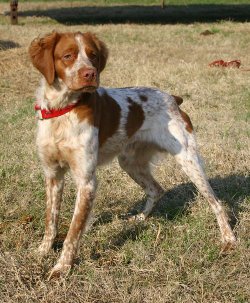 DB Cooper. Do you remember DB Cooper?

DB came to us from Dave Walker. I traded a horse for a puppy! Yes, that is correct. I thought it was for 2 puppies so I guess that another one will show up just as unexpected as DB did. DB's father is called Cooper. Tom Tracy's sister, Krista, happened to be traveling on the field trial circuit with Tom when Dave gave her DB to deliver to us.Krista gave him the name because it just popped in her head. I think that she is too young to remember who DB Cooper was but maybe she saw one of the TV specials about him The name stuck.

DB was one of the most personable dogs that I have ever known. Our nickname for him is "snuffle-douffle-ous" because he loved to "snuffle" into your arms. At the same time he was a dog that everyone came out to see run. He style was animated, he loved to find and point birds - high on both ends when he was on point.

DB contracted a life threatening disease when he was training in South Dakota and so his career in field trials was on hold for over a year. During his recuperation he slept sitting up with us in the house.

DB sired five litters of pups, all of which are doing very well in both competition and pet homes. One puppy from a previous litter even saved a family from a house fire when he woke them up from their sleep to alert them to the threat! ...more on DB

DB's passing still leaves us with a pang in our hearts.