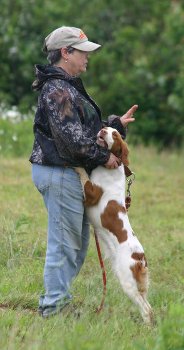 Joy with Jesse at a Maurice Lindley Seminar


Joy and I were married in 1982. Before we were even married we shared our first dog, Hans, a black lab mix. Passed down to us from Daniel, Joy's brother, Hans was the perfect dog - Very well behaved, never a problem, and a champion frisbee catcher. Hans went everywhere we went and was always the life of the party.

As Hans got older we thought that he could use a girl friend so we got Portia, a very nicely pedigreed black lab. Portia turned out to be the "hound from hell". That is when we took up obedience training, turning Portia into a celebrity in the obedience training circles. She was used as a demo dog at many events and was even cast in a movie.

Since Portia was a challenge Joy wanted another big challenge so we got CeCe, our Rottwieler. CeCe was abandoned at a kennel and we were asked if we would like to take on her training and care. She had some behaviorally problems so it would be some work. As it turned out CeCe was one of the most biddable dogs we have ever had. She was super sweet and would do ANYTHING for Joy.