NEWS !
OUR NEW LITTER - BORN 4/13/2020
(we have deposits on all of the puppies from this litter)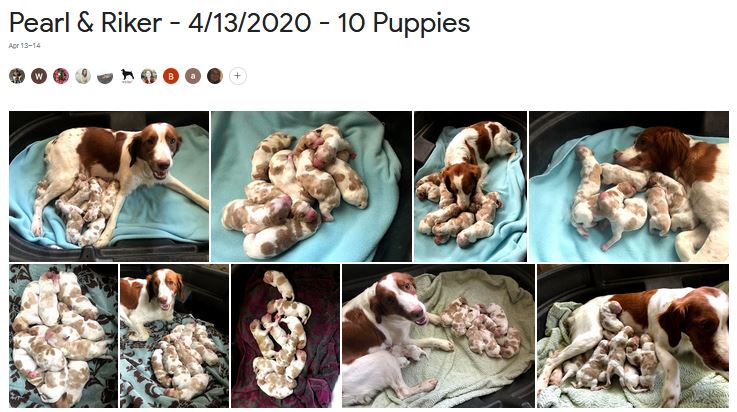 click on the photo above for access to photos
CLICK HERE FOR MORE INFO
This litter is between two great producers, Pearl and Riker. Pearl has had two previous litters and Riker has had three. Those litters produced some truly great field champions, dual champion, and some fantastic family members. We get photos from people all of the time with Riker pups and Pearl pups. Their match is what we consider a perfect combination of pedigrees:
Riker



Waypoint Chancy Diamond Riker is from a breeding between 5XCH, FC CHANCEY JACKPOT LOTTO (CHANCE) and DAN'S QUEEN OF DIAMONDS, combining two of the greatest Brittany Field Trial dogs of our time, Chance and Diamond Hill Dan - each with pedigrees deep in Champions and Hall of Fame dogs.
Pedigree Here...

Pearl



Thunder Point's Waypoint Serendipity is from a breeding between Shelttany's Millennium Thunder, from a long line of Millette show champions, and Thunder Point's Absolute Dream, who's pedigree goes back to some of the great field and dual champions like Chick's Blaze'n Sawtooth Sam, NFC FC Beans Blaze, DC Scipio's Little Chick, NFC FC AFC Hi Proof Rum Runner, and the Ban-dee line.
Pedigree Here...
---
BIG WHITE wins American Brittany New England Shooting Dog Championship then follows up with a win of the
The Continential Shooting Dog Championship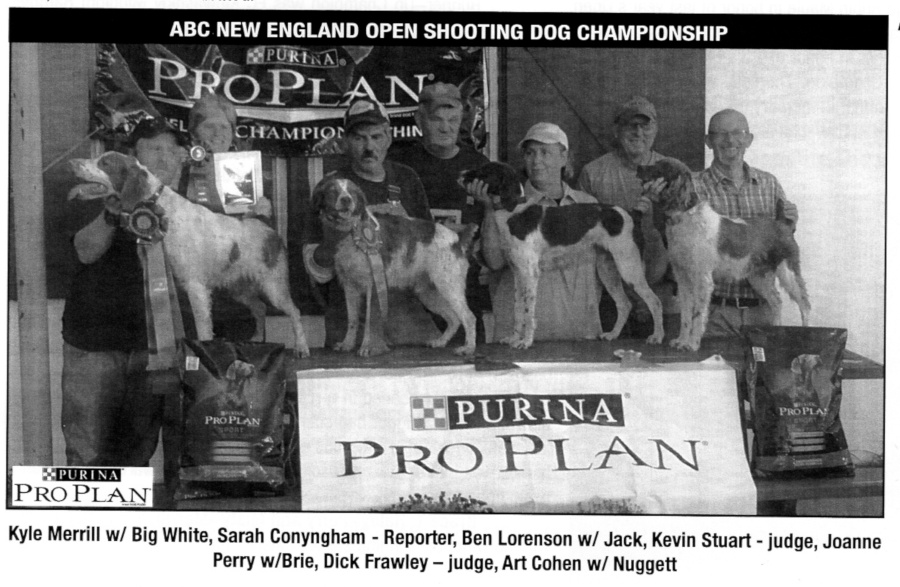 From the ABC Magazine:

The Open Shooting Dog Championship ran 23 dogs on October Waypoint's Chancy Big White Cooper was named the 2018 New ABC Brittany Open Shooting Dog Champion owned by Joyce Roberts abd Vic Williams and handled by Kyle Merrill. The Champion, aptly named BIG WHITE, and handler Merrill arrived in the last brace, Some dogs need a bracemate but Big White did not. He covered the country intelligently and purposefully, scoring three well—spaced finds, each with manners befitting his placement. Though the paths had been furrowed by many before him, two of his finds were in locations in which no other dog had scored. In the last, the cover was so impenetrable, bird flushing seemed unlikely, yet the handler was unpredictably successful in making the bird fly. Big White concluded his hour gamely seeking distant objectives, but attentive to his handler.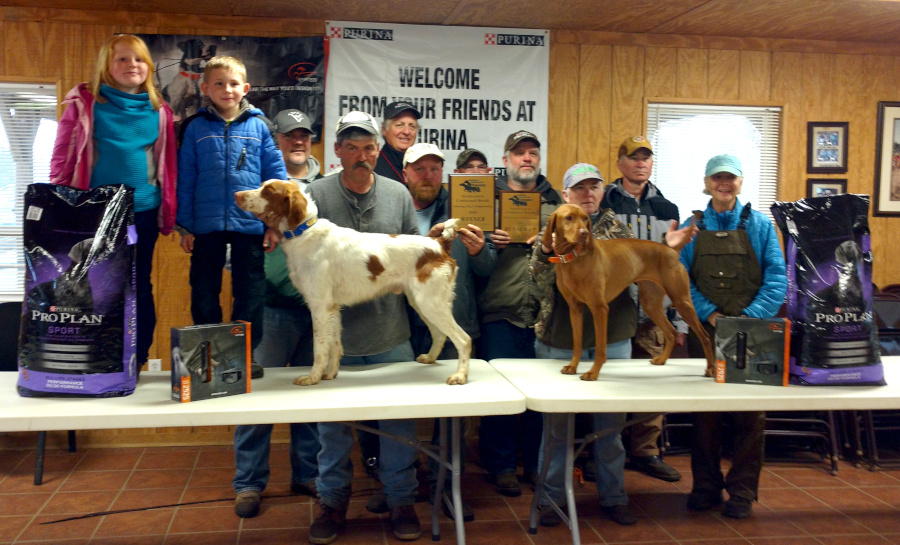 SOUTHEASTERN CONTINENTAL BREED SHOOTING DOG CHAMPIONSHIP
held at Waynesboro, Georgia
---
Our Last Litter Born on Saturday, Jan. 5, 2019!
ALL PUPPIES HAVE BEEN PLACED
click on photos below for additional photos and viewing options)
----- LATEST PHOTO GALLERYS
-----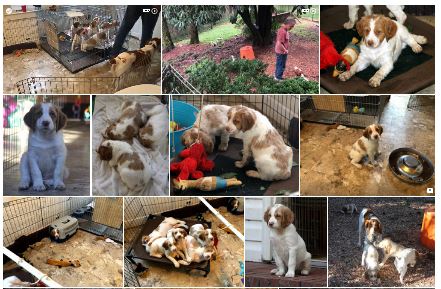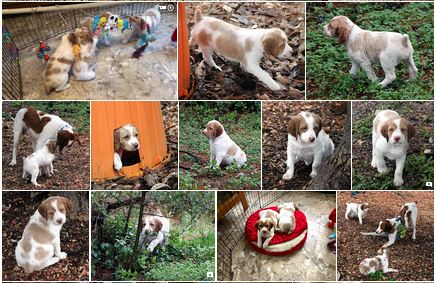 WEEK 7 WEEK 6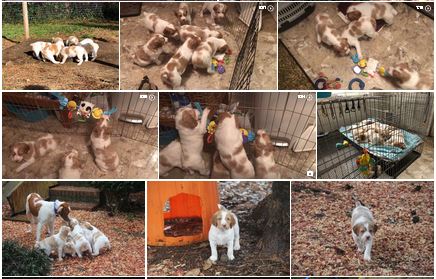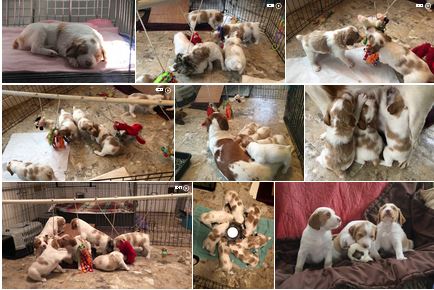 WEEK 5 WEEK 4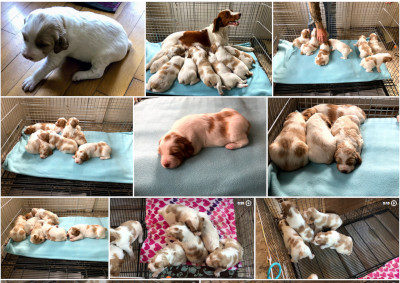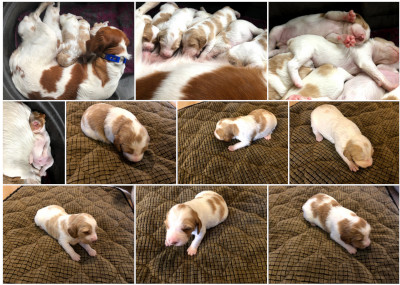 WEEK 3 WEEK 2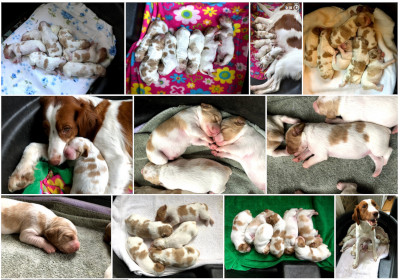 WEEK 1
Dad and Mom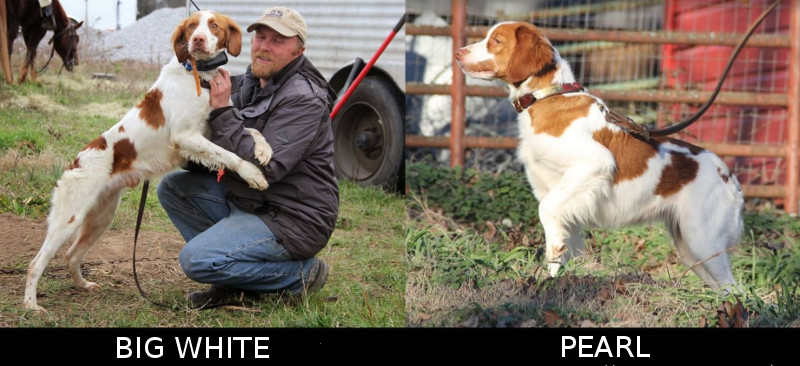 This is a repeat breeding from last year. This pairing produced one of the best litters we have ever had. Of the 6 pups, 3 have gone to competition homes and already have field placements, including a stunning 1st place in the 2018 Georgia Brittany Club December trial. Three went to family pet homes and they are all very happy.
The pedigree brings together some of the greatest lines of show and field brittanys.
WANT MORE INFORMATION?
WANT TO BE PUT ON OUR WAITING LIST FOR OUR NEXT BREEDING?
Please email:
WAYPOINT@ASSI-CAD.COM
Click on photos below for some of the photos of the last litter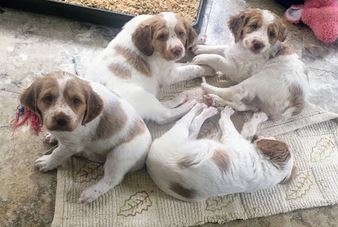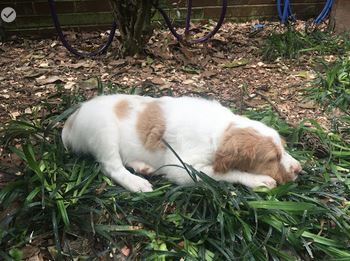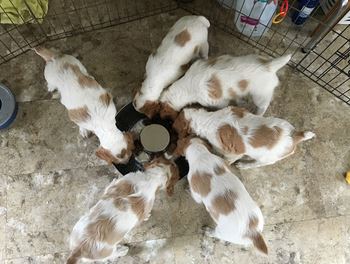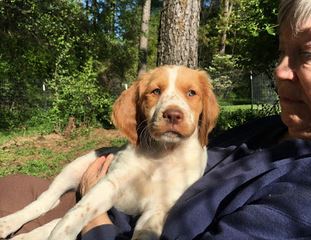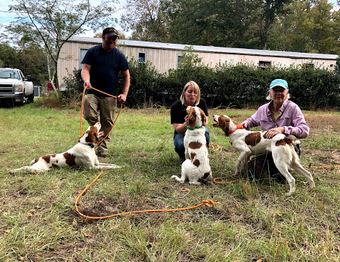 Puppy Pedigree Here...
---
More about us....
Breeding
- We breed when we are ready and the dogs are ready. We breed for ourselves when we see an opportunity for an exceptional combination of genetics. We breed for the whole dog:
Excellent Physical Characteristics
Sound Mental Health
Emotional Stability

Good Health and Long Life
Superior Intelligence
Natural Ability and Drive
Training
- We are not professional trainers. We train our own Brits and work with professional trainers. Training starts early - when the puppies can first be molded.
From birth they are handled and socialized. We provide gradual challenges for their mind and body - challenges that they can achieve and develop confidence. They are introduced to nature, wildlife and varied environments so that they are comfortable in all surroundings and situations.
When they are ready we start them on discovering birds and the joy of finding wild birds. When the dog is ready for becoming steady to wing and shot we work with several professional trainers - See our
LINKS
page for information on some of the trainers that we work with. Training is an ongoing relationship and is never finished - for both us and our dogs.



Our dogs live with us. They come in our house, go to work with us, and go on vacations. We hear over and over, "Wow, that is a good dog you have there!". Nothing can make us feel more proud of our pack. And we hear from people who have bought puppies in the past.
Just wanted to say Brewster is doing great. He is very eager to go outside and very eager to learn, he is playing well with our boxer and has even approached our rabbit run and pointed, very cool. It is obvious that y'all pay very close attention to detail when you are breeding, he is one of the best behaved puppies I have ever had. Thanks again.
- Aaron

If I had brought home a hundred puppies I don't think I could have found a better one to work with. She is exactly what I was looking for. She is always fired up and ready to go, she catches on quickly and really tries to do what you want. All of this go-go-go comes in a dog that is very sweet and really wants to be with me. To top it all off, she's a roan. What more could you ask for!
- Lou Ann
I had always wanted a Brittany since I first was introduced to the breed, but Gus has far exceeded any expectations I had about the breed. I can only see a better and delightful future with our Gus.. part of that for sure is your fine breeding and giving Gus and his siblings a very good start in raising them those first crucial months. I thank you for being so kind and well with him. We will be back onto the road for Scott to return to work and we have bought a new, bigger camper to travel with. We already had a practice sleep over in the yard in it, to see how Gus would do, and he was just fine! He runs in and out of it like as if he has been doing it all his life! Silly puppy, we love him dearly.
- Heather


CLICK HERE FOR MORE...
other activities that we do with our dogs:
Field Trials
- Fall and Spring we go to field trials and enter our dogs and pups into amateur and open stakes. Don't know about field trials? Visit this Georgia Brittany Club
website link
for a description.
Hunt Tests
- While we have not really gotten into the Senior and Master Hunter levels of this AKC sport, we do take our young dogs to Hunt Tests to give them exposure to bird hunting and trialing.
Conformation
- We occasionally enter our dogs into shows but have not immersed ourselves into this venue. However our dogs' pedigrees have many champions in the lineage and we are planning on campaigning at least one of our young dogs now.
WANT MORE INFORMATION?
Please email:
WAYPOINT@ASSI-CAD.COM