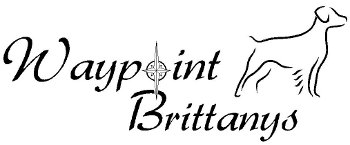 OUR NEW LITTER - BORN 4/13/2020
(we have deposits on all of the puppies - thank you)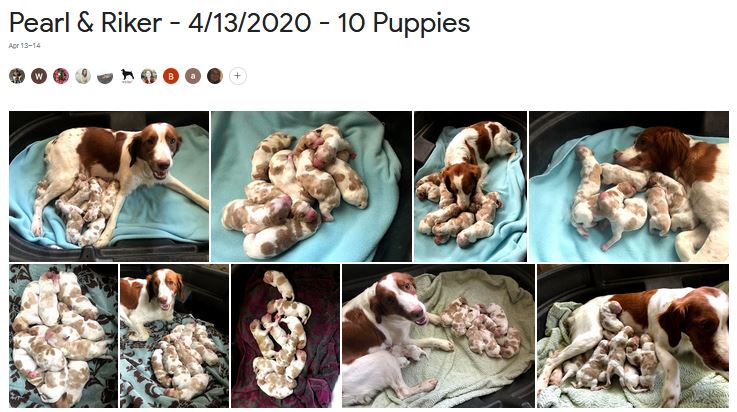 click on the photo above for access to photos
and here are some additional photos as they progressed:

Week 2
Week 3
Week 4
Week 5
Week 6
This litter is between two great producers, Pearl and Riker. Pearl has had two previous litters and Riker has had three. Those litters produced some truly great field champions, dual champion, and some fantastic family members. We get photos from people all of the time with Riker pups and Pearl pups. Their match is what we consider a perfect combination of pedigrees:
Riker



Waypoint Chancy Diamond Riker is from a breeding between 5XCH, FC CHANCEY JACKPOT LOTTO (CHANCE) and DAN'S QUEEN OF DIAMONDS, combining two of the greatest Brittany Field Trial dogs of our time, Chance and Diamond Hill Dan - each with pedigrees deep in Champions and Hall of Fame dogs.
Pedigree Here...

Pearl



Thunder Point's Waypoint Serendipity is from a breeding between Shelttany's Millennium Thunder, from a long line of Millette show champions, and Thunder Point's Absolute Dream, who's pedigree goes back to some of the great field and dual champions like Chick's Blaze'n Sawtooth Sam, NFC FC Beans Blaze, DC Scipio's Little Chick, NFC FC AFC Hi Proof Rum Runner, and the Ban-dee line.
Pedigree Here...
TRAITS AND QUALITIES

Riker
is a beautiful roan marked dog with great conformation. He is highly agile and quick. He is a very fast learner and can understand what you want usually with one or two lessons. He really loves people but also respects them by not jumping on them. What really makes Riker a perfect dog is that he LOVES to please you. He loves to play and fetch and loves and respects our other dogs. He is good inside and out in the field. One of his offspring, Deke, is well known in the field trial world and is now a AKC Amateur Field Champion, Confirmation Champion and a Senior Hunter.
Pearl
is truly our pearl. She is a stunning dark orange and white clear coat also with great conformation. She has proven herself a great mother and a great producer having puppies in multiple field trial competition homes - all placing and winning in trials. Pearl is independent and intelligent - she figures out things easily. She loves to please and is a pleasure to be around. It is easy to see human qualities in her. She is great around everyone and other dogs.
PHOTOS OF PAST PUPPIES
some Riker pups - some pearl pups
for more photos click on the photos below



Riker pup from his last litter

Pearl Pup from her last litter

Riker pups from a previous litter

Pearl Pups from a previous litter

A Riker Pup
First Place finish in the Amateur Gun Dog stake at the Ohio Brittany Club's trial in Dresden Ohio, pending AKC confirmation, CH/AFC Waypoint Deacon Of The Hunt-SH (3/15/20)



A Pearl Pup
Toni - owned by Kyle and Daci Merrill - of Stoneridge Kennels - professional bird dog / field trial trainers. Multiple Field Trial Placements and soon to have her own litter!
For more information and reservations:
Please email:
WAYPOINT@ASSI-CAD.COM
Our Previous Litter Born on Saturday, Jan. 5, 2019!
This breeding was between Pearl and BIG WHITE
(ALL PUPPIES HAVE BEEN PLACED - click on photos below for additional photos and viewing options)
----- LATEST PHOTO GALLERYS
-----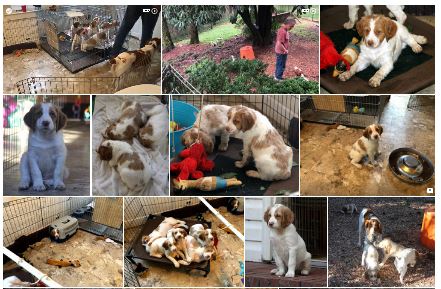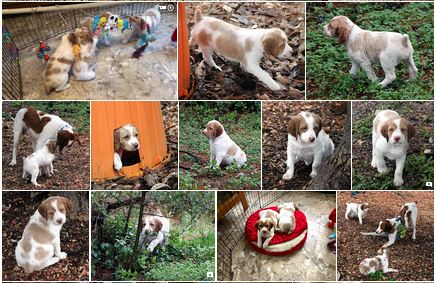 WEEK 7 WEEK 6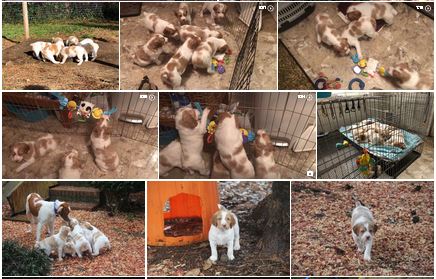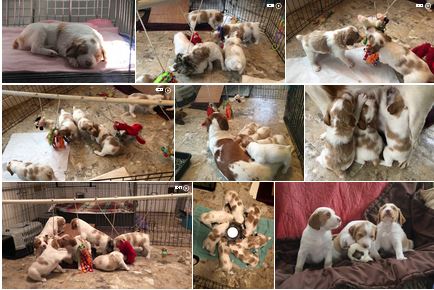 WEEK 5 WEEK 4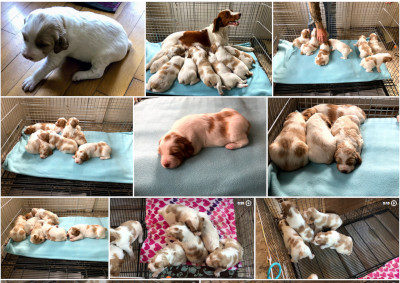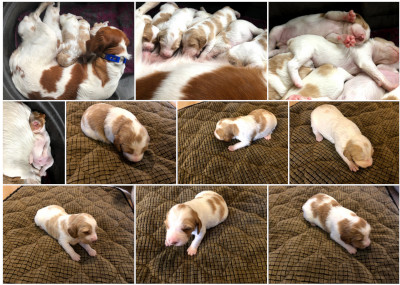 WEEK 3 WEEK 2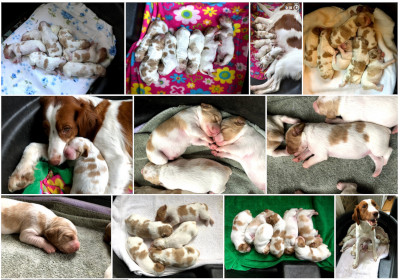 WEEK 1
Dad and Mom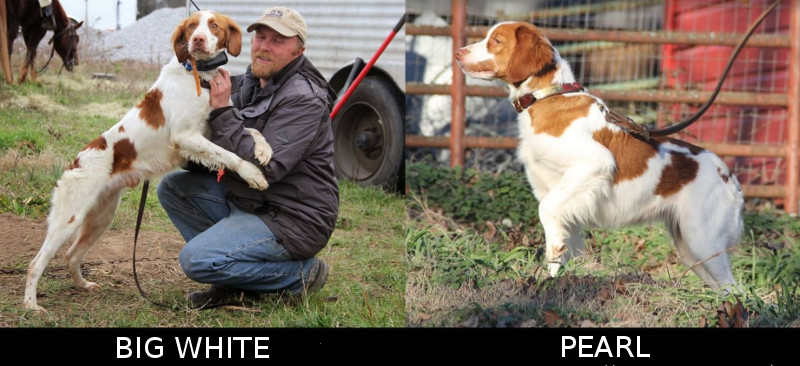 This pairing produced one of the best litters we have ever had. Of the 6 pups, 3 have gone to competition homes and already have field placements, including a stunning 1st place in the 2018 Georgia Brittany Club December trial. Three went to family pet homes and they are all very happy.
The pedigree brings together some of the greatest lines of show and field brittanys.
For more information and reservations:
Please email:
WAYPOINT@ASSI-CAD.COM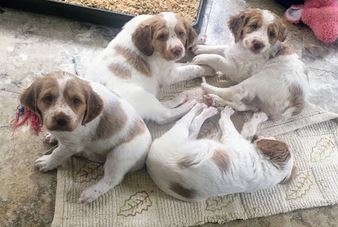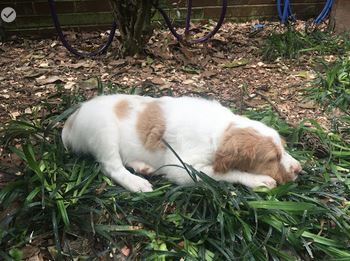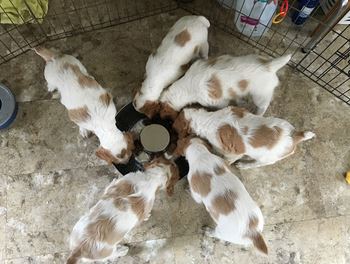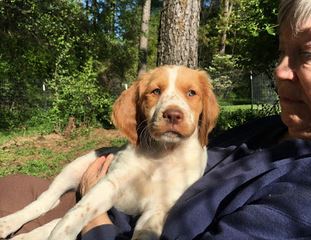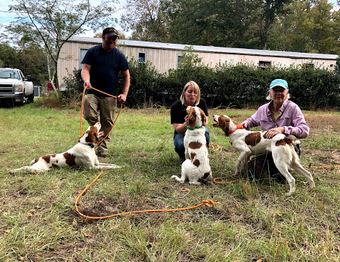 Puppy Pedigree Here...
For more information and reservations:
Please email:
WAYPOINT@ASSI-CAD.COM
---
One of our past litters with Scandal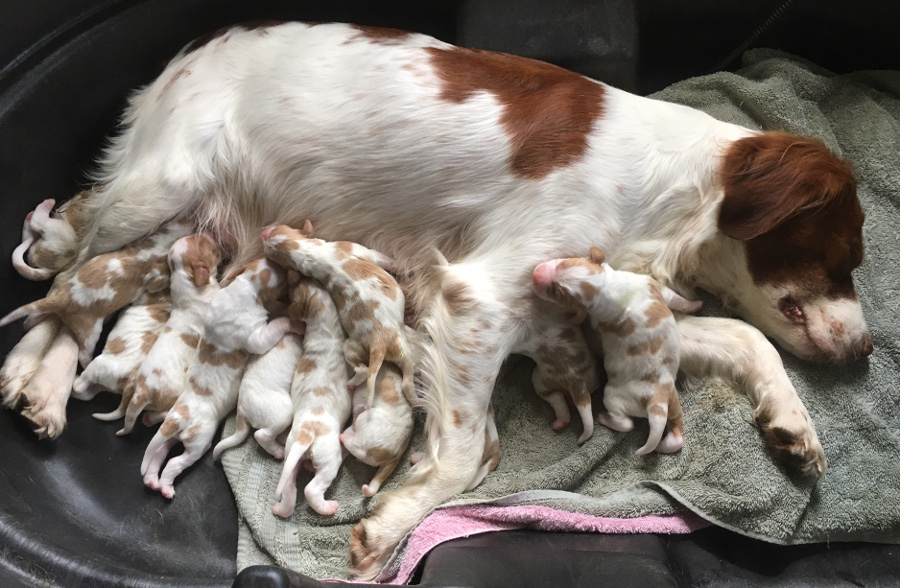 Some Past Photos of Waypoint Brittany Puppies and New Owners
| | |
| --- | --- |
| | Thank you all for caring for our children. I hope that they bring as much joy and happiness to you as they have for us. Please keep in touch... |