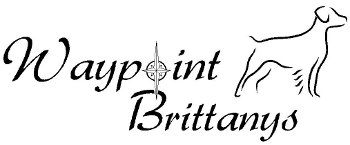 Ruffian's Gallant Corrival
Romeo
(deceased)
Romeo is a synonym with the word Gallant. Corrival means "contender". Romeo was young up-and-coming star, showing lots of promise. As a puppy he picked up his puppy points the first time out and got his derby points the third time down as a derby. His recent accomplishments include coming in 2nd place at the January 2000 Tarheel Brittany Club Field Trials at the Sandhills Field Trail Area in Hoffman, NC.. This was his 1st time running as an adult and, by coincidence, ran against some of the top dogs, including his father, FC Hi-Scor Jac D Ruffian.
In March of 2001 Romeo died in a freak car accident while at home with his owners. We all will greatly miss his presence and the opportunity to see this true all age contender always showing to the front.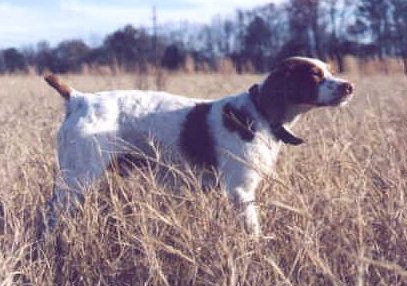 Owned by Vic Williams & Joyce Roberts.
Pedigree
Romeo
Ruffian's Gallant Corrival
Male White & Orange
Whelped: 06/26/97
Breeder: Scott Ackerman
FC Hi-Scor Jac D Ruffian
DC/AFC Markar's Jac's A Dan D
DC/AFC Jacque of Connie
Smokestone Dan-Dee
DC Countess Ruffian of JMR
DC/AFC/F&S Count Geoffery
Rufus's Miss Tumbleweed
Ruffian's Red Hot Jet
FC Hi-Scor Jac D Ruffian
DC/AFC Markar's Jac's A Dan D
DC Countess Ruffian of JMR
TM Red Hot Spicey Lady DMR
FC/AFC Rimarda's Trademark
FC/AFC Scott's Gingerbread Lady
Placements
1/1998 - Georgia Brittany Club Field Trial
1st Place Open Puppy
10/1998 - Georgia Brittany Club Field Trial
3rd place Open Derby
11/1998 - Central Gulf Coast Brittany Club Field Trial
1st Place Open Derby
2/1999 Bama Brittany Club Field Trial
2nd Place Open Derby
1/2000 Tarheel Brittany Club Field Trial
2nd Place open All Age
(1st Adult Competition)
O.F.A. Registry Number BS-9773G29M
GOOD
---