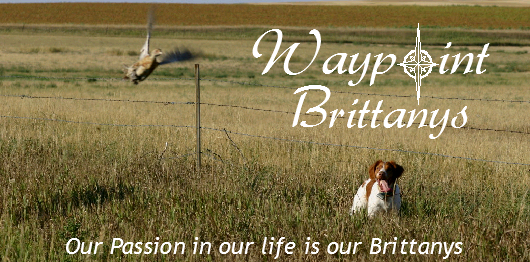 Vic Williams & Joy Roberts

Living with dogs for our whole life...
Training dogs together since 1984
Field Trialing and owning Brittanys since 1997



Home of DB Cooper, 5xAF CH, FCChancey Jackpot Lotto, and




NGDC, FC, Last Dixie Chick




(see OUR DOGS for details)



Living with our dogs and horses in Calhoun, Georgia on our 50 acre farm and training grounds.

First and Formost, it's About The Dog


Breeding
- We breed when we are ready and the dogs are ready. We breed for ourselves when we see an opportunity for an exceptional combination of genetics. We breed for the whole dog:
Excellent Physical Characteristics
Sound Mental Health
Emotional Stability

Good Health and Long Life
Superior Intelligence
Natural Ability and Drive
Training
- We are not professional trainers. We train our own Brits and work with professional trainers. Training starts early - when the puppies can first be molded.
From birth they are handled and socialized. We provide gradual challenges for their mind and body - challenges that they can achieve and develop confidence. They are introduced to nature, wildlife and varied environments so that they are comfortable in all surroundings and situations.
When they are ready we start them on discovering birds and the joy of finding wild birds. When the dog is ready for becoming steady to wing and shot we work with several professional trainers - See our
LINKS
page for information on some of the trainers that we work with. Training is an ongoing relationship and is never finished - for both us and our dogs.



Our dogs live with us. They come in our house, go to work with us, and go on vacations. We hear over and over, "Wow, that is a good dog you have there!". Nothing can make us feel more proud of our pack. And we hear from people who have bought puppies in the past.
Just wanted to say Brewster is doing great. He is very eager to go outside and very eager to learn, he is playing well with our boxer and has even approached our rabbit run and pointed, very cool. It is obvious that y'all pay very close attention to detail when you are breeding, he is one of the best behaved puppies I have ever had. Thanks again.
- Aaron

If I had brought home a hundred puppies I don't think I could have found a better one to work with. She is exactly what I was looking for. She is always fired up and ready to go, she catches on quickly and really tries to do what you want. All of this go-go-go comes in a dog that is very sweet and really wants to be with me. To top it all off, she's a roan. What more could you ask for!
- Lou Ann
I had always wanted a Brittany since I first was introduced to the breed, but Gus has far exceeded any expectations I had about the breed. I can only see a better and delightful future with our Gus.. part of that for sure is your fine breeding and giving Gus and his siblings a very good start in raising them those first crucial months. I thank you for being so kind and well with him. We will be back onto the road for Scott to return to work and we have bought a new, bigger camper to travel with. We already had a practice sleep over in the yard in it, to see how Gus would do, and he was just fine! He runs in and out of it like as if he has been doing it all his life! Silly puppy, we love him dearly.
- Heather


CLICK HERE FOR MORE...
other activities that we do with our dogs:
Field Trials
- Fall and Spring we go to field trials and enter our dogs and pups into amateur and open stakes. Don't know about field trials? Visit this Georgia Brittany Club
website link
for a description.
Hunt Tests
- While we have not really gotten into the Senior and Master Hunter levels of this AKC sport, we do take our young dogs to Hunt Tests to give them exposure to bird hunting and trialing.
Conformation
- We occasionally enter our dogs into shows but have not immersed ourselves into this venue. However our dogs' pedigrees have many champions in the lineage and we are planning on campaigning at least one of our young dogs now.