An Extraordinary Slice of History

by Vic Williams
O
nce upon a time,
not so long ago, there was was the Deep South Brittany Free For All.
For a period of 10 years, between 2000 and 2009, Brittany field trialers from across the country made the pilgrimage to the South to attend one of the most prestigious and extreme competitions in the Brittany field trial world. Today field trialers speak of the FFA, as it is often abbreviated, as if it were the stuff of legends, and it is.
The concept of the Free For All was the brainchild of James Doherty and the first directors of the association. He first told me about the concept at the Bama Brittany Club trial. It was ALL about the dog. See the
PERFORMANCE STANDARD
that he wrote. He presented these ideals with such passion that my first thought was that my dogs could never live up to this. (I was wrong only because I underestimated my dogs and their trainers).
The location for all but the first FFA was Tara Hill Plantation, near Selma, Alabama, under the care of our host, Alva Caine. The sign out front of the small plantation house reads "Welcome to the Land of Milk and Honey", and so it was. See the
LOCATION
page for a much better description. Look through the photos for an idea of how vast, open, and groomed the courses were - how it took a really great performer to show well.
Look through the
TRIAL RESULTS
and the summaries of the
CHAMPIONS
and you will see lots of people that you have known or heard of, and dogs that are legends, many now in the Field Trial Hall of Fame. And read the field trial write ups and the articles that went to the American Field, mostly by Kent Patterson, and you cannot help but be moved.
This website pays tribute to those people and dogs that made this the gala event and the legend that remains. Hidden in its pages are the stories and photos that give a glimpse into what the FFA was. But like the photo you take of a magnificent mountain range it cannot convey the immensity and magnificence that you get from experiencing it first hand. I have made some editorial changes to how the site operates to conform to new web standards and fixed broken links, but have not changed the content. Below is the original start page which was the last home page after the last running of the Free For All.
Enjoy.
POSTSCRIPT
Some of the groups of photos were never properly linked into the website,
I provide them here in case they do not exist or are broken elsewhere.
2007 Championship
2007 Amateur Championship
2008 Championship and Amateur Championship
2009 Championship
2009 Amateur Championship
(copyright© Vic Williams 2019)
Welcome to The Deep South Brittany Championship Association Web Site
and Home of the

Deep South Brittany Free For All Championship
held at Tara Hill Plantation
Safford, Alabama
with the generosity of Alva Caine and in memory of
Katherine Caine

Completion of the 2009 Free For All Championship



The DSBCA proudly announces the completion and winner of the 2009 Championship and the 10th Anniversay of the Championship to be run at Tara Hill Plantation deep in the land of legendary bird dog champions. The results are as follows:
Safford, Al., February 4-6, 2009


Judges: Freddie Epp and Ruth Ann Little

Deep South Brittany Free-For-All Championship
[45 min qualifying heat] [1 hr championship heat]
24 Brittanys

Dogs Called Back for the Championship Round


Top Qualifier: Early Times; h: Tom Tracy; o: Bo and Renea Ackerman

The Rock II; h: Tom Tracy; o: Paul and Lisa Pollock
A Touch of Bourbon; h: Jerry McGee; o: Jerry and Ruth McGee
Savannah's Hot Shot; h: Ben Lorenson; o: Sheri Hudson
Diamond Hills Deuces Gone Wild; h: Tom Tracy; o: Paul and Lisa Pollock
Just Call Me Roy; h: Ben Lorenson; o: Tom Ettinger
Early Times; h: Tom Tracy; o: Bo and Renea Ackerman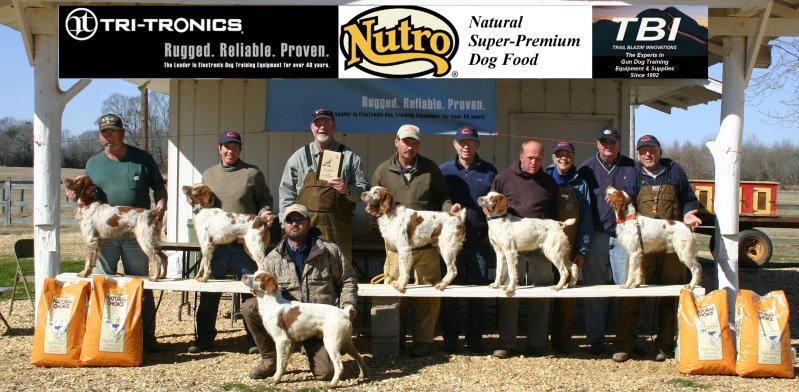 Champion




Ru'Jems A Touch of Bourbon,


Brittany Male, by Bourbon XIII
X Mo-Kan Bimbo; Jerry and Ruth McGee, owner, h Jerry McGee



Runner-Up




Savannah's Hot Shot


Brittany Female, by Keystone's Double Shot
X Savannah's Vamp Hannah; Sheri Hudson, owner; h Ben Lorenson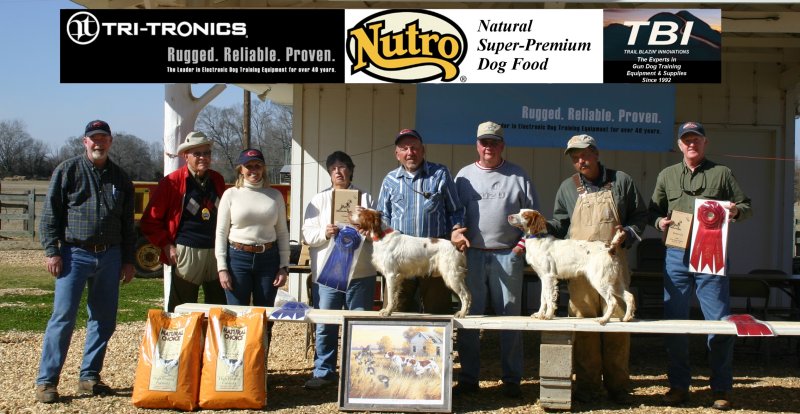 CLICK HERE FOR PHOTOS
CLICK HERE FOR WRITEUP
and


Completion of the 2009 Free For All Amateur Championship



At the completion of the Championship the DSBCA held the annual running of the Amateur Championship honoring R.D. Hinson. The placements are as follows: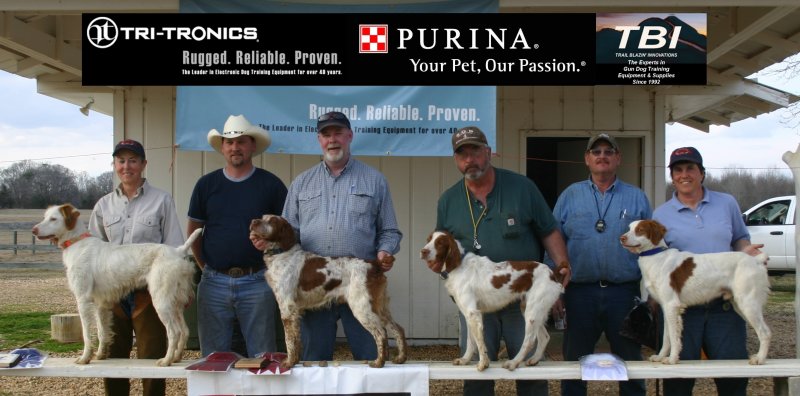 CLICK HERE FOR PHOTOS
COPYRIGHT © 2019 by The Deep South Brittany Association, All Rights Reserved