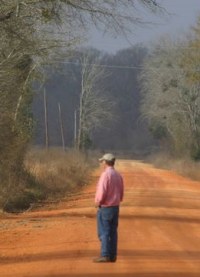 Imagine stepping back in time, when travel was by horse, the breadbasket of the nation was tamed by the sweat men and mules, and the association of nature to man was intimately understood by those who lived by the land. The pace of life was in sync with weather, the seasons and the time it took to finish a job. Here, just outside of Selma, in the heart of Dixie, time has stood in abeyance and except for the intrusion of transportation and technology the culture of southern gentry still embrace the principles of honor and respect of others and the land of their heritage. Here you can see the old tree lined single carriage wide lanes running away from the new roads now made by bulldozers. All
acquaintances
are afforded the response of a "Yes Sir" of "No Sir".
It is here in this "Heart of Dixie" that we repeat the time honored tradition of pitting two dogs against each other and the elements to determine the better dog; "Which dog you would like to take home". Twenty miles East and South of Selma, Tara Hill sits in the heart of bird dog country, adjacent to some of the most respected pointing dog field trial venues, and host to some of the most memorable and honored competitions of man and dog.
The weather here is the weather; hot and dry, cold and wet. But never so hot or cold as the extremes of our sport and so moderate temps and weather is the case. As this is a championship the judges and directors take conditions into consideration when determining the running times, starts and stops.
Hotels are 20 miles away in Selma and range from the very inexpensive to the moderately priced. A favorite for competitors and guests is the Ramada which is moderately priced and offers high speed wireless internet at no extra cost. Most trialers stay on the grounds if they can.

Nearly every evening there are congregations of trialers that cook out or make something in the small plantation house and share with those around. Traditionally one evening there is a "Championship Winner's Dinner" and another the "Amateur Championship Winner's Dinner". Fare is "tail gate" and there is always bar-b-que at one or both. Boots Mitchel claims the bar-b-que to be some of the best in the world.



Remnants of the Past


Paddocks on either side of the original carriage road. Trees line both sides of the 200 year old road.
Our very gracious hosts always makes sure that there are corrals for the horses and lots of water adjacent to horses and campers.
Lunches are brought in by local folks who serve up old south style fried chicken, pork chops, collards, turnip greens, cornbread, and of course, the table wine of the south, sweet tea. There is a small charge for lunch.
If you have a GPS you can use the coordinates below. The map below offers directions from your location and, believe it or not, Google street level views of the club house.