2007 Amateur Free-For-All Champion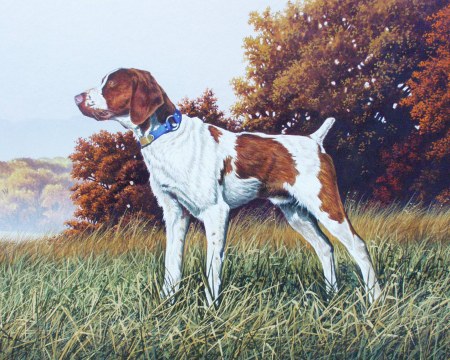 Chancey Jackpot Lotto

"Chance"




"You'll know it when you see it"

says famous field trial reporter and handler

Kent Patterson

when describing championship performances. I agree whole-heartedly with his observation. When I see what I believe to be a performance that will win a championship, not only does the canine athlete make the job look easy but so does the handler and scout team. The winners aren't galloping all over the course screaming for the dog and blowing the horses chasing him. They are right there in front of the judges pointing out their charge as he skims the likely cover and continues on his merry way. Sure, if the dog needs help, go get him, if there is the possibility of him making a wrong turn at a bifurcation of the forward course, canter up there and get him straightened out then wait on the judges and the rest of the party to get there, then send him on or point him out.

But it's all got to be relaxed to be smooth and flowing. The best handlers I've been fortunate to know over the years anticipate the challenges they face on the course ahead of them and calmly work to nullify the effect they will have on their dog's forward momentum.

Jake Schroeder, one of those "best" handlers I mentioned before, said to me one day "James, if you're going to win this championship you've got to have a plan". Jake and JoJo (Jake's beautiful wife and scout) always have a plan. Jake, knowing where the trouble spots on the courses are, will anticipate a troublesome spot on course and apparently, according to plan, he will calmly canter out and intercept his charge and heel him back to the front, send him on, and then sit back and enjoy the show.



I don't know if this year's successful championship team had a plan or not but it sure looked that way from where I was sitting.







CHANCE

2007 DSBCA Amateur Champion goes to work

Behind the Caine's old family home is a bench that has a long and growing list of famous feet that have rested on it's white washed surface. The long white bench has it's own place in the championship winning experience, it's rough-hewn surface elevating winners, past and present, to stand proud and distinguished while owners and others delight in the opportunity to record a single moment of a champion's career. Four of those famous feet belong to Chancey Jackpot Lotto and for the third time in his competitive career The Bench once again supports this great champion as admirers record another of his "moments".

Chance won the DSBCA Free-For-All Championship in back to back years under the whistle of professional handler Tom Tracey. Winning in 2004 and again in 2005 Chance has already proven he's got the stuff to win big here.

By winning the 2007 Deep South Brittany Amateur Championship for owners Vic Williams and Joyce Roberts, Chancey Jackpot Lotto has launched himself to a different plane having now won both the DSBCA Free-For-All Championship and the Deep South Brittany Amateur Championship.


Bird dog is what Chance brought to the table in 2007. Scoring 6 finds in his hour with Vic at the helm, Vic was heard to mutter, "I've never run out of ammo before. Can I borrow someone's gun"?

Chance broke away on the number one course closest to camp and sailed straight away to the front. As the party approached the caretaker's home some ten minutes later Chance was found standing. As his brace-mate, Roy (Just Call Me Roy) came up on the scene; Roy stopped for a few seconds and then went on. He was leashed at that point. In the commotion of that incident Chance used the time to make his stand even more firm for flush and shot. Sent on Chance disappeared to the front and was found standing by judge Berneathy to the right of course one near a feeder. A long flushing attempt ended with a good size covey put to flight with all in order.



CHANCE'S SECOND FIND

Handler Vic Williams flushes


Away from this find Chance again sailed to the front and within five minutes was again found standing.

Vic had trouble getting anything to flush but having dismounted to get a better view, one of the judges flushed a single right where Chance said he should be. Manners at flush and shot were once again in order and Chance was released only to go about fifty feet and slam on point again with another single handled like a champion.

Chance glided over Tara Hill from this find and was once again found standing buried up in a cedar filled fence line on the right side of the course. A large covey was put to flight from this stand and again Chance was released. It was about this time that Vic was reminded to check his ammo and he came up short. Chance crossed Safford Road and was gone to the front.

As we made the crossing onto the Hamilton property Chance was seen standing tall to the left of the crossing. This reliable covey blasted out of the cover with the whole party in a semi circle around the action. Chance was sent on and as he disappeared down the edge of the long meadow leading to the Bramlett camp, time was called. A short canter and search had Chance back at the dog wagon.

Wow!




Runner-up Champion was found in veteran Cooper's Ozark Traveler. Cooper has won this stake once and this is his second year in a row to be named Runner-up. Cooper, running in brace three, broke away from the Suttle forty making good time through that field and rimming the edges in the next.


| | |
| --- | --- |
| Lost from sight in a woody patch on the right edge of the course he was seen by his handler standing tall in some low thick grass in the bright sunshine. The first flushing attempt produced nothing. Tapped to relocate Cooper moved up five feet and froze. There sitting like she was on a nest was a lone hen quail enjoying the sunshine on this cold morning. Flush and shot were witnessed with Cooper's normal high and tight intensity and he was sent on. He continued for the next several fields scorching the edges and as he traversed the west edge of the Big Muddy field, distance between he and the Party widened until he disappeared from sight. | |

When we made to cross Safford road he was found standing on the edge of the road pointing into heavy cover behind a fence. This covey was put to flight and he was sent on through the Well pasture and past Camp-No-Sleep to finish out of sight at time. Cooper was returned from the front and we all returned to camp for one of Mrs. Johnson's delicious southern lunches.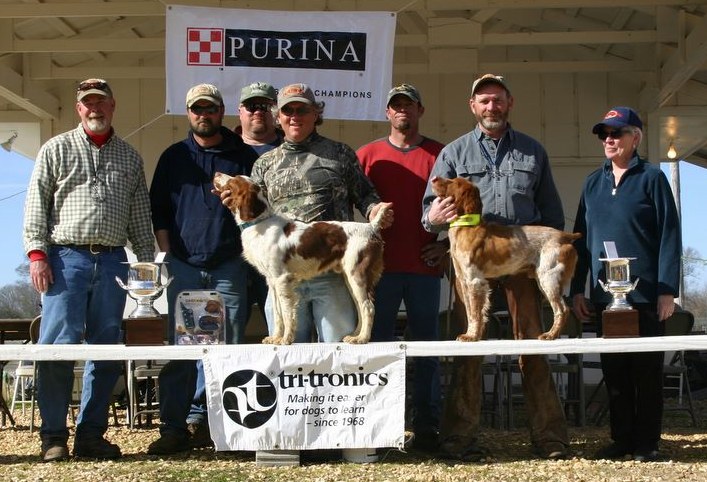 Winner
Chancey Jackpot Lotto
"Chance"
Brittany Male, by Hired Gun Lucas
X Rooster's Little Bambino
Vic Williams & Joyce Roberts, owners
h Vic Williams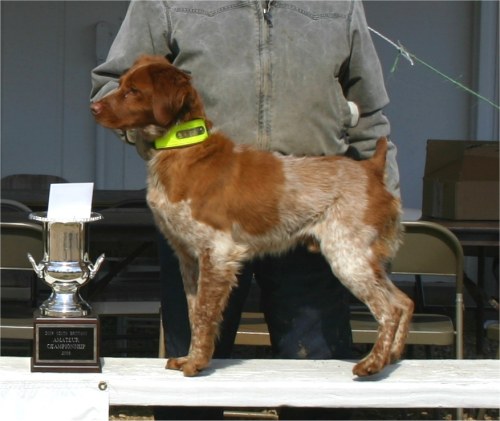 Runner-Up

Cooper's Ozark Traveler
"Cooper"

Brittany Male, by Blaze Dakota Trucker
X Mokan Razzle Dazzle
o. James and Betty Doherty
h. James Doherty
CLICK HERE TO READ THE ENTIRE FREE FOR ALL 2007 AMATEUR CHAMPIONSHIP WRITE UP