2004 Deep South Brittany Amateur Championship
By Kent D. Patterson





In my memory, R.D. Hinson was one of the most honorable gentlemen I have encountered in this life

. I will never forget when I was a novice to Brittanys another new acquaintance, the late Warner Snell of Gun Dog Supply Company, suggesting that I contact Mr. Hinson because he was starting a new Brittany club near me in Northwest Florida. I made the call and was invited to an upcoming field trial to be run on the now famous Blackwater State Field Trial Grounds.

Upon arrival I was entranced by the multitudes of people, dogs and horses that seemed to take up all of the available space. I located Mr. Hinson and introduced myself. I was immediately made to feel welcome and introduced in turn to my now longtime friend Dr. Tim Stewart. These two gentlemen so filled my mind with tales of bird dogs and field trials that even today, 20 years later, the desire to witness that next great performance is still so strong that it keeps me riding the roads, dragging dogs and horses all across the country.

The club that Mr. Hinson started became very successful hosting American Kennel Club (A.K.C.) pointing dog field trials and with his help and advice club members owned, trained and handled dogs to win Field Championships and a couple even became National Field Champions. Mr. Hinson, a true sportsman by nature, cherished each of these accomplishments by his friends as if they were his own.

Years passed and Mr. Hinson moved into the role of advisor, encouraging younger minds and bodies to move the club forward always keeping in mind his vision which is to foster the proliferation of classy, well bred, field type Brittanys in the Southeast. To this end field trial stakes were run exemplifying the highest standards of honesty and sportsmanship. Accomplished and knowledgeable bird dog men that shared his views on class and style in pointing dogs were obtained as judges at field events that were run on the wild quail infested Blackwater field trial grounds.

More years passed and the State of Florida changed the way the field trial grounds at Blackwater were managed. In our opinion this, coupled with the loss of native quail due to a series of hurricanes, resulted in the Blackwater grounds becoming a less than satisfactory venue for running American Kennel Club pointing dog field events. The decision was made to move the field events to a new location where quality grounds and facilities were available and native quail populations could be enhanced to appropriate levels for an A.K.C. sanctioned pointing dog event. The move was well received by the field trial community with each trial run in the new location drawing more and more quality entries creating even more success for Mr. Hinson's club.




After several years of hosting events at the new location the American Kennel Club began a flurry of changes that affected the management of field trials. The documentation and structural requirements seemed to have overshadowed the ultimate reason for the events. Knowledgeable bird dog people were no longer allowed to judge based on the hosting club's knowledge of their expertise and integrity. Often the new requirements resulted in less qualified individuals occupying the judicial saddles in A.K.C. sanctioned trials… with predictable results.

The changes at A.K.C. prompted discussions within our group and a concept for a new direction began to take shape. Conversations with Bernard Mathys of The American Field led us to study the writings of William F. Brown. Specifically the book Field Trials History, Management and Judging Standards. In this volume we found that our concept of field trials and pointing dogs is not unique and we were allowed to run a Field Dog Stud Book acknowledged championship based on a standard that was written by us, promoting dogs that exhibit the characteristics that we feel will enhance the Brittany breed.

Casting off all ties to The American Kennel Club the Deep South Brittany Championship Association was formed and has run The Deep South Brittany Free-For-All Championship 5 times. The R.D. Hinson Derby Classic historically run as a companion stake to the free-for-all was changed to an amateur championship in 2003. Using the same performance standard as the Free-For-All the R.D. Hinson Amateur Brittany Championship seeks the same type dog with the only differences being that there is no qualifying series and only amateur handlers can compete with a Brittany that has earned a placement in an acknowledged stake.

Four of the Free-For-All Championships and two of the R.D. Hinson Amateur Brittany Championships have been run on the Tara Hill Plantation near Safford, Alabama. Tara Hill Plantation owned by Mr. Alva Caine offers the best bird hunting terrain available to field trial Brittanys today. Wide open hay meadows, close hunting wood lots and one field affectionately known as "Big Muddy" to the locals comprise this wonderfully diverse venue.

Mr. Caine runs no dogs of his own and he grooms and maintains these grounds year round providing a quality venue for a couple of field trial groups including the one known as "The Brittanys". A trip around the grounds will show strategically placed feed and water sites for the many coveys he puts out each fall and maintains throughout the season. Mr. Caine also grooms the fields and maintains covey sites on the property adjacent to Tara Hill which is leased by Dr. Kenneth Bramlett. The addition of this property makes possible two major connections that ensure a smooth flow for the three one hour courses.

Apparently "The Brittanys" do things differently than the other field trial groups that are invited here by Mr. Caine. A car gallery was seen observing the action during the running of the Free-For-All and it continued through the R.D. Hinson Amateur Championship. On the first day of running the amateur championship I observed Mr. Caine's delighted amazement when, as we took our mid-morning break from the running, the car gallery pulled up and disgorged about ten people, still celebrating the Free-For-All win, who immediately started opening wine and champagne. Mr. Caine's infectious laughter could be heard throughout our now large group as the new comers proceeded to have a party in the middle of the seldom traveled Safford road. The break was a bit longer than usual that morning.

The generosity of the landowners and the support of Purina and Deep South Horse and Tack once again combined to make this an extraordinary event. Mr. Pat Lamantia of Purina and Mr. Wayne Folkes of Deep South Horse and Tack have helped us jump start this young championship and we very much appreciate their help.



Cooper's Ozark Traveler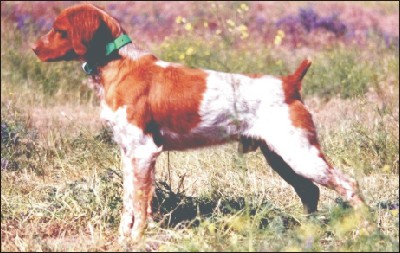 Four year old male, Cooper's Ozark Traveler owned by James and Betty Doherty of Mobile, Alabama was named champion of this event with The Prodigy, seven year old male owned by Kent Patterson of Franklin, Tennessee being named runner-up champion. The performances of these two dogs are described below in the order in which they were run.






Brace 1




Cooper's Ozark Traveler (Cooper)-Doherty




Keystone's White Label (Hank)-Cherry.



Breaking away into a very chilly Alabama morning both dogs handled the muddy running in the first two fields well. Cooper was right in a cast through a forward woodlot and Hank accepted the invitation of the large open field to the left and was not brought forward for some minutes. Cooper ran the inside tree line to the right of the burned field showing to the front precisely where he was supposed to be just short of the new lake site. Hank was returned at this time and both dogs continued forward across Safford road onto Dr. Kenny Bramlett's property. Cooper's handler loses sight of him along the Sedgefield's Plantation fence and as he's looking for him point is called from the front. Cooper is sighted by the lead judge to the left of the Bramlett property gate on point with perfect style. A large covey is produced with Cooper spinning to mark flight. Sent on Cooper moves up with Hank who is running the edges with casual ease well to the front. Hank makes a wide swing down into the second Sedgefield's fence corner then across the next hill to finish going away. Cooper was returned from the front after a large swing to the right shortly after time was called.



Brace 2




Hi Proof Whizki (Whiz)-Doherty




Kid Hummer (H)-Williams.



Away from Tara Hill the wind has come up and the morning is even chillier. Both dogs work well to the front down the hill and up the next into the pines. Whiz has a find in the field just before the next Safford road crossing with marginal style on point. Taken on Whiz made a large cast to the left front and is found on point by his scout well out on a limb. The handler saw a lone bird but could not flush it from the heavy cover. Whiz's manner drooped considerably during the flushing attempt and was picked up shortly after. H finished his hour hunting to the front at moderate range with no bird contact.



Brace 3




Lea's Running Jayhawk (Jake)-Bo Ackerman




Keystones Double Shot (Shooter)-Cherry.



Jake has suffered all week from a stomach flux that has been going around from string to string. It was apparent he was not feeling well and Bo picked him up after a few minutes. Shooter was not seen since a few minutes after breakaway so we headed in for lunch.



Brace 4




Dude (?)-Borgman




The Prodigy (Jim)-Patterson.



Away after lunch the wind has really picked up making it difficult to maintain contact with the dogs. Dude turned left into the first big field as the course went right and it was some time before he was returned. Jim was wide and on course when Kent found him standing near the big burned field the birds flushing as the party arrived. Dude returned shortly after this find and both dogs continued through the big burned field up towards Tara Hill. Crossing Safford road both dogs were out of pocket again at the Sedgefield's fence. Jim returned to work the edge going by Dr. Bramlett's kennel in fine fashion and finished his hour with a nice covey find in the pines behind the Bramlett camp. Dude was not in sight as time was called and finished his hour with no bird work.



Brace 5




Diamond Hill Dan (Dan)-Pollock




Cochief (Chief)-Patterson.



Cast from the Tara Hill break away point both dogs were going well into a strong cold wind. Dan went left into the next forward field and had a very stylish well located covey find with perfect manners. Released into the next field Dan made the front easily. A short period of confusion as he tried to determine which handler to respond to resulted in his second find on the pin oak stand covey. Both dogs then headed forward on course with chief showing well on the edge going back toward the Safford road crossing. Point was called for Chief to the left of the field before the road crossing and it was handled with his usual classic pose. Dan turned right instead of left at this crossing and was never returned to judgment. Chief continued on with an additional forward covey find to top off his hour.



Brace 6




Booker "T" (Booker)-Scott Ackerman




Pineywoods Samiam (Sam)-Krause.



Breaking away West in the Suttle 40 both dogs turn North and are out of pocket for a few minutes. The Party next saw Sam as he ran a West running edge forward and on course. Booker was returned to our view at the top of Tara Hill as we made the swing past it. Booker hunted the next field in record time but was picked up for "not pleasing" Scott. Sam showed well below the Tara Hill pond running the edges on course nicely at moderate range. Sam, found standing by his scout, had a very stylish point on the Pin Oak covey with all in order, Sam continued his hour across Safford road hunting the edges well until pick up.



Brace 7




Pistol Pakin' Walker (Gator)-Cherry




Chancy Jackpot Lotto (Chance)-Williams.



A beautiful very cold morning awaits us on Sunday. Away at 8:05 the dogs are unhappy at being turned loose in mostly frozen mud. Both dogs tippy toed through the first field trying to get the blood warm. Chance makes a nice move through the first tree lot and shows up passing the trash pile covey location and is basically never seen in judgment again. Gator presses on at moderate range having a well-located find at the beginning of the big burned field. Taken on point is again called for gator at the end of the burned field but by the time the party arrived the handler said the covey had flushed but Gator was still standing tall. Gator finished his hour showing well past the Bramlett kennel and fields past it.



Brace 8




Just Call Me Roy (Roy)-Cherry




(?) Johnson-Schlenker.



Away from the Tara Hill break-away point both dogs hunted the hillside very well. Through the first gap Johnson went left and pointed the same covey Dan had in brace five with exquisite style. Taken on he caught up with the front at the top of the next hill and the large stand of pines. Both dogs went to the front with Roy being the wider of the two. Point was called for Johnson just before the Safford road crossing with no birds being seen by the judge he was taken on. Roy crossed the road and the next field to have a find on the left edge with perfect manners. Two fields down course Roy has a find right in front of the gallery and as Ken flushes Johnson enters the scene and passes well behind the find to gain the front. Ken finally manages a flush after a considerable flushing effort and both dogs continue into the next field. Point is called and as the party arrives we see both dogs facing each other and as Ken flushes a covey springs out from the press. Further on point is called for Johnson but he has released himself before the judges arrive or the handler dismounts. Roy points within 100 feet of this incident with birds flushed in good order. The dogs are taken on down the Sedgefield's fence field and Johnson goes on point at the end of the field. Birds are flushed as the other handler passes through the crossing with no birds seen under judgment. Time was called at this point.



Brace 9




Dakota Alley Cat (Tiger)-Bo Ackerman




Shady's Koala T (Misty)-Cherry.



Away in the Suttle 40 both dogs go well to the front with Tiger being the wider of the two. Misty handled the Tara Hill crossing of this course well with Tiger being out to the left but he was brought back at heel in good order. Both dogs went to the front and into the big pine stand. After several minutes we found the dogs standing head to head, apparently backing each other just past the pine stand. Birds were in the air as we passed the pin oak covey and Tiger was found standing tall in the brush. Tiger returned to the area of his find and never regained the front. Misty finished the hour at moderate range handling well through the wood lot at the end of course three.




Safford AL., Feb 7,2004

Judges: Jerry Fulgham and Ronnie West

2004 Deep South Brittany Amateur Championship

[45 Minute Heats] --- 18 Entries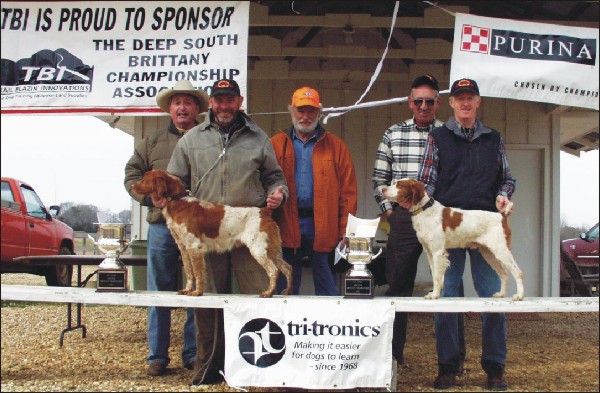 Left to right: Alva Caine, James Doherty with Cooper's Ozark Traveler, the
judges Jerry Fulgham and Ronnie West, Kent Patterson with The Prodigy
Winner
Cooper's Ozark Traveler (Cooper)
o./h. James Doherty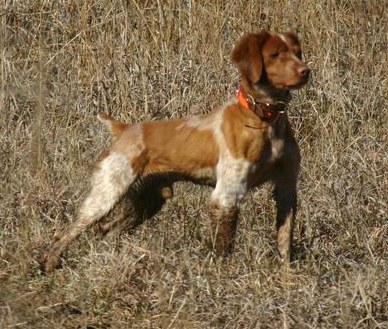 Runner-Up
The Prodogy (Jim)
o./h. Kent Patterson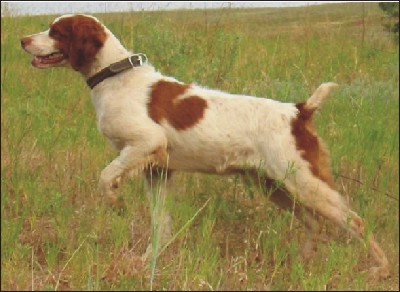 The Prodigy - 2004 Runner-Up